Give your customers and subscribers the training they need the fast & easy way!
Quick & Easy Video Lessons Let You
Teach Your Customers, Members &
Subscriber's Simple Things They
Can Do To Improve Their Website's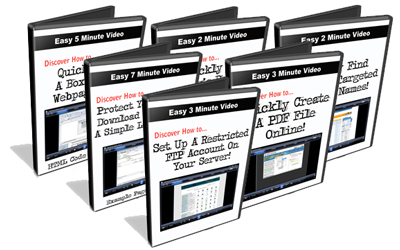 They Will Thank You For Showing Them How To
Quickly Perform These Simple Tasks!
---
Dear Marketing Friend:
There is no denying that there is a huge and rapidly growing demand for content delivered in an online video format. More and more consumers are turning to online video whenever they have a problem or want to learn how to do something new. Now it is easier than ever to give your visitors, customers and subscribers exactly what they want. Let me ask you this....
Are you looking for a great way to educate your customers, members, subscribers, visitors, & blog readers?


Do you have a list of people who are eager to learn how to build websites, improve
their websites and make money online?


Do you like the idea of providing them with quick and easy videos that will show
them simple tasks that will help them build their online business?

If you answered yes to any of those questions then "congratulations" you are in the right place at the right time. Keep reading this page to find out how you can grab 6 quick and easy video's that you can use to teach your customers, subscribers and visitors in the way that they want to learn.
The simple fact is that video is a great way to communicate and teach, because it entertains and engages people much better than other forms of content.
"The truth is...People love learning from video and...
if you aren't giving them what they want they are going to go some place else "
Why do people love video tutorials....
Because video's don't require time consuming "on screen reading", ebooks are hard to read and most people simply quit reading half way, but not with video... with video all they need to do is sit back, relax and watch as they are shown exactly what to do!





Video tutorials leave absolutely nothing to chance. As a matter of fact, you're customers will thank you for showing them how to perform simple tacks with a quick problem solving video tutorial. They are proven to be an instant best seller.





People feel they are getting SO much more value when they receive a multimedia product, I know it sounds crazy, but video product's also have a much lower refund rate than ebooks and other digital products do. Even if they contain the SAME information!





Video products are quick to digest, people are busier than ever! When they can get the information they need quickly and easily they are more than happy to pay top dollar for it and it sells like crazy...



Videos cut straight to the point leaving the viewer with exactly what they want faster than reading how to books and manuals and they love them!
---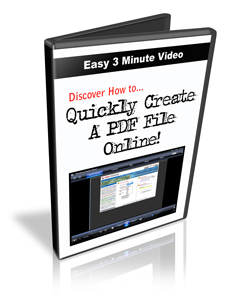 In 3 minutes you can show them how to...
quickly create a PDF file online, with out downloading and installing costly, hard to install and use software! So that they can protect and share their content in PDF form!
This is fast and easy!
---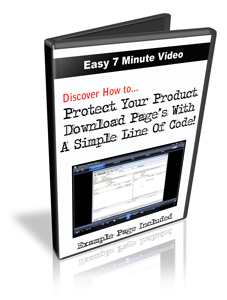 In 7 minutes you can show them how to...
protect their product download pages from unscrupulous thieves by adding a simple line of code to their webpages! An example page is included, so that they can simply copy and paste the code into their own pages!
This is a money saver!
---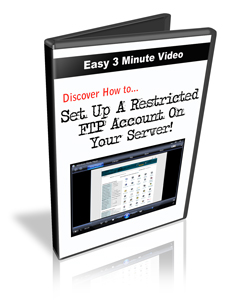 In 3 minutes you can show them how to...
quickly set up a restricted FTP account on their hosting account, so that they can only share access to certain files with others! This comes in handy if you hire someone to work on your site for you
It's easier than you may think!

---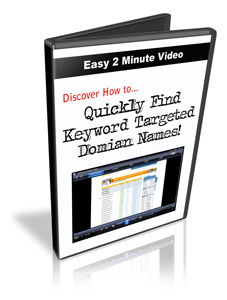 In 2 minutes you can show them how to...
quickly find keyword targeted domain names for their websites, without having to type in a new query for each one to see if it is available.
This is a real time saver!
---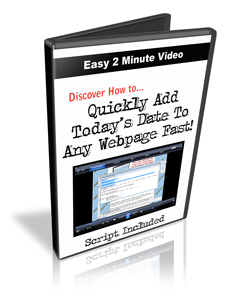 In 2 minutes you can show them how to....
quickly add a live date script that will display the current date to any webpage! The script is included, so that they can simply copy and paste!
This keeps webpage's current!
---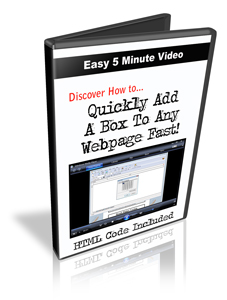 In 5 minutes you can show them how to....
quickly add a box to any webpage, so that they can showcase certain information on their website. The HTML code is included, so that they can simply copy and paste it into their own webpages!
This is a handy tip!
---
Save hours of your precious time creating your own video tutorials to share with your customers, visitors and subscribers!
Because you can quickly brand each of the videos in this package with your own name and business information, sell them, give them away or upload them to popular video sharing sites like YouTube and start attracting your own fair share of free traffic!
You can even set them up on a squeeze page and offer them as a nice bonus to build your mailing list! It's completely up to you!
Ready to go flash files
No editing needed. Just upload them and go!


Easy to edit AVI files
Stamp them with your brand and spread your name all over the Internet!

Grab All 6 Video Tutorials
Only Rs.3,000.00